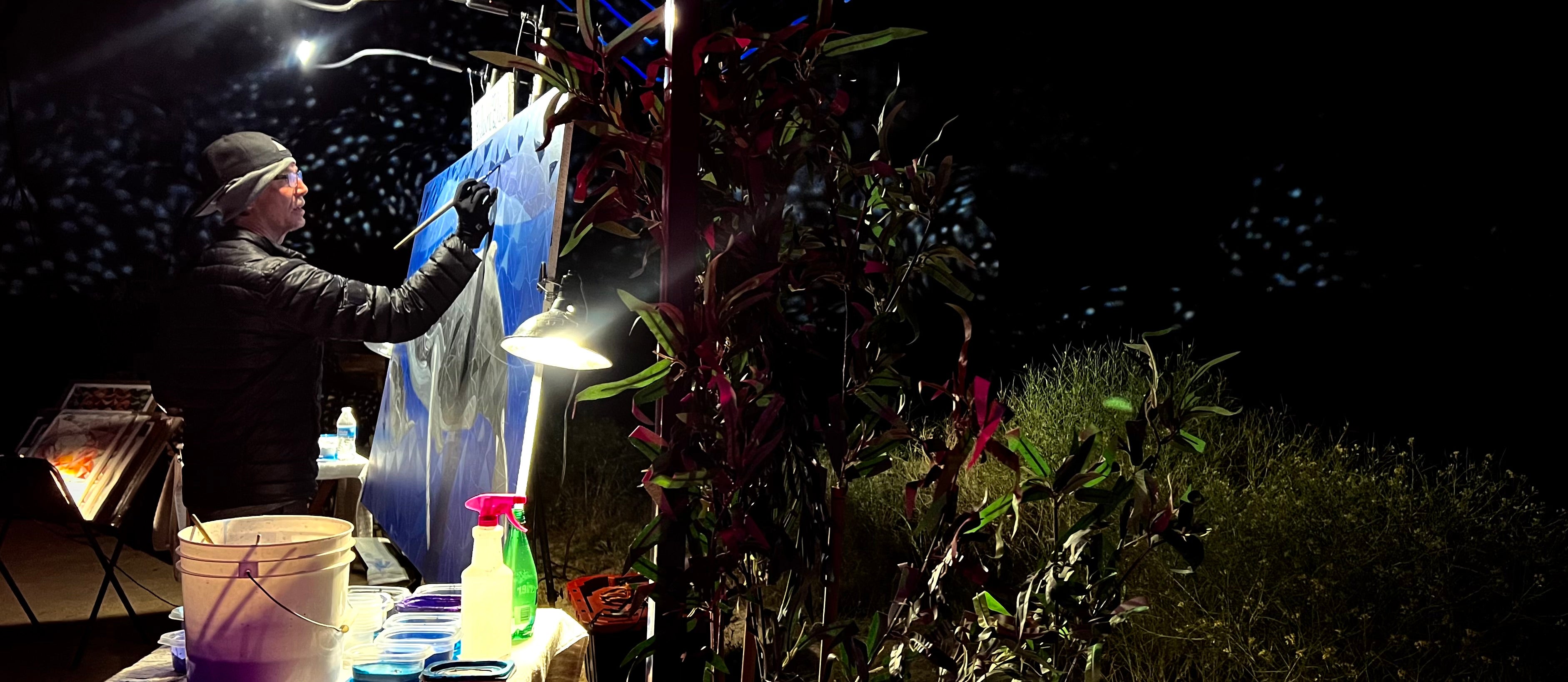 The Zedi Master
James Yuran (aka Zee Yuransky) was gifted in drawing from an early age and decided at the age of five to pursue art as the main focus of his life's work. Born in Detroit, Michigan to working class parents, James was always sketching the world around him. In 1974 the family relocated to Sarasota, Florida, a place that was not only an idyllic beach community for a young child to enjoy, but also home to the Ringling Brother's and Barnum & Baily Circus. The Ringlings were the prominent American family in creating the circus and grand patrons of the arts in general. The atmosphere in Sarasota was saturated with artistic temperaments, characters, and aesthetics. In 1990, James moved to California, eventually settling in La Jolla in 1993. In 1995 he galvanized a timely new aesthetic balance between the material, technological, virtual & spiritual worlds that existed in America's cultural landscape—thus Zedism was born!
To gain some perspective, the emerging artist first pursued studies in science and engineering from 1984 to 1989. Equipped with a degree in Material Science that focused heavily on Ceramics (crystalline forms), he developed computer chips for the technology giant Kyocera from 1990 to 1999. In 2000 he founded Ego id, Inc., a promotional products manufacturer that later became Ego id Media, a creative marketing, graphic design and printing company. Yuransky opened Zedism Gallery in 2006 to display his growing collection of unique works and founded the School of Zedism shortly thereafter to teach his style to anyone interested. In 2011 he opened ArtLab Studios, a creative performance space and art gallery that showcased emerging San Diego talents and became an "Artrepreneurial" greenhouse for networking among like-minded creative professionals.
In 2016, Zee began focusing on painting and marketing his work to bring Zedism to the forefront of the public's eye and imagination. Yuransky's Zedism is a glimpse into the world of molecular aesthetics, nature's hidden order, technology systems, digital "virtual" worlds, and human/cosmos integration. It is hoped that the new language of Zedism will help to develop and support a more robust and rational human nervous system in tune with nature's language to meet the coming millennium's new challenges. 
Exhibition History
2023 - La Jolla First Friday - Sotheby's
2023 - Balboa Park - San Diego, CA
2023 - Love Machine - Spring Festival - Jacumba, CA
2022 - Love Machine - Fall Festival - Jacumba, CA
2022 - Love Machine - Spring Festival - Jacumba, CA2021 - Love Machine - Fall Festival - Jacumba, CA
2021 - Love Machine - Spring Festival - Jacumba, CA
2019 - The iN Gallery - "Zedism – New Paintings and Morphologies" San Diego, CA
2017 - Desert Hearts Spring Festival - Los Coyotes Indian Reservation, CA
2016 - Ashland Green Show - Ashland, OR
2016 - San Diego Art Walk - Liberty Station, San Diego, CA
2016 - Art Around Adams - San Diego, CA
2016 - Genius Loci - Punta Cabras, Baja Mexico
2016 - Desert Hearts Spring Festival - Los Coyotes Indian Reservation, CA
2016 - Tropical NYE - Weldon, CA
2015 - Contact - Rancho Agua Caliente, Baja Mexico
2015 - Genius Loci - Punta Cabras, Baja Mexico
2015 - Electric Poncho - Guadeloupe Canyon, Baja Mexico
2015 - Desert Hearts Spring Festival - Los Coyotes Indian Reservation, CA
2014 - Desert Hearts Fall Festival - Los Coyotes Indian Reservation, CA
2014 - Desert Hearts Spring Festival - Apple Valley, CA
2013 - Encinitas Library - "Living Lowbrow Art Show" Encinitas, CA
2012 - ArtLab - "Art Around Adams - Assembly of Awesomeness" San Diego, CA
2011 - ArtLab - "Emergence" San Diego, CA
2010 - Ego Id Media - "Art Around Adams - Solo Exhibition" San Diego, CA
2009 - Noel Baza Fine Art -"New Contemporaries 2" San Diego, CA
2009 - Ranroy Printing Company - Solo Exhibition San DIego, CA
2008 - Art Expressions Gallery - "Movers and Shakers" San Diego, CA
2008 - Zedism Gallery - "Zedition #2" San Diego, CA
2007 - Zedism Gallery - "Zedition #1" San Diego, CA
2007 - Zedism Gallery - "Resurrection" San Diego, CA
2007 - Zedism Gallery - "Propaganda" San Diego, CA
2006 - Zedism Gallery - "Solo Exhibition" San Diego, CA
Tales from the Zedi Master